Many drivers in China think they have found a way to stop high-beamers at their tail. They are using scary decals on their rear windows that light up when bright light is shined upon them.
These decals feature female vampires and movie monsters from Eastern and Hollywood films. These stickers are barely noticeable in the dark but when a high-beamer comes around, BOOO!!! He may shit his pants.
These decals are fairly cheap and are in the $3-18 range on websites like Taobao. However, there is one tiny issue that the site is completely in Chinese so you will need Google translator for this one.
However, police in some states are warning drivers from using such decals as they might cause accidents. They are fining people up to $15 for using ghoulish decals.
Here's the difference between the normal decal and when a bright line is shined upon it.
These are the different variety of decals available.
High Beam Headlights Off
High Beam Headlights On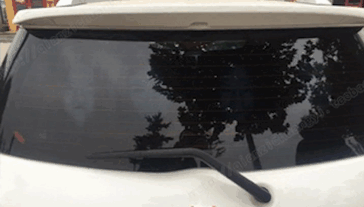 If your state police ban you from using such decals, there are always decals that you can use to pass your message to the high-beamer behind you.